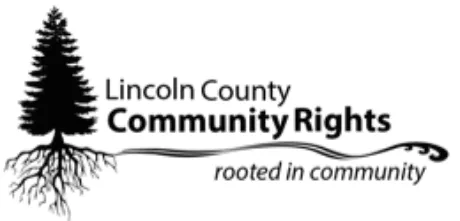 Protect Our Children Our Water, and Our Rights.
Lincoln County Community Rights (LCCR) is a public benefit organization that seeks to empower people to exercise their right to local community self-government in matters that pertain to their fundamental rights, their natural environment, their quality of life, their health and their safety.
LCCR and the counties residents have passed a citizens' initiative to ban aerial spraying (spraying from airplane or helicopter) of pesticides* in Lincoln County, OR.
Citizens for a Healthy County, the
political committee of Lincoln County Community Rights, led the effort to ban aerial pesticide spraying in our county through Lincoln County Measure 21-177 in the May 2017 election. Your vote did make our ordinance entitled "Freedom from Aerially Sprayed Pesticides of Lincoln County" the law in our county.
A True "right of the environment" does exist.
— Pope Francis, September, 2015
Community Rights Action!
Every 4th Thursday of the month. 6:30-8:30pm
Learn More.