Hellbent on Survival

Many in the Community Rights world are familiar with the tale of Grant Township, PA – a story that started in 2013 and recently scored a huge win when Pennsylvania General Energy announced the injection well they wanted to utilize for toxic chemicals will be capped and sealed. It isn't the end of the story but it is a stunning victory for the citizens of this community who took on industry and industry's sidekick, the EPA. The folks in Grant Township were aided and supported from the beginning by the Community Environmental Legal Defense Fund (CELDF) and its Pennsylvania Director, Chad Nicholson, who is joining us in this month's online event to share details and focus on the big story – "Don't piss around with our water!".
Our evening will begin with a short documentary titled HellBent, about the local Hellbender Salamander, a symbol who like the community where it lives, cannot survive without clean water: https://www.hellbentfilm.com/
Please join us Wednesday, July 26th @ 6pm, PDT when the Oregon Community Rights Network continues its series of public conversations, Chat 4 Change:
Moderator: Kai Huschke, ORCRN president
Guest: Chad Nicholson, CELDF Community Resilience Director
Join Zoom Meeting
https://us02web.zoom.us/j/84246502520?pwd=SnIyMUc5MjFGOUFzaXVmVjh6TE5MZz09
Damn that Dam!

What dam are we referring to? Winchester Dam in Douglas County – the only dam in Oregon that exists to service the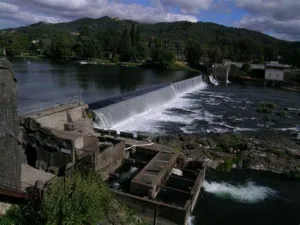 recreational desires of the 156 homeowners who own the dam. We could chalk it up to yet another playground for the 1% if it weren't for the fact that the 1% share the dam with Coho salmon. Their failure to perform maintenance necessary to accommodate the Coho means the salmon are dying as they attempt to get over the dam.
 
There is one other problem with putting a dam in the hands of special interest individuals and that is the water itself. The Winchester Water Control District is ILLEGALLY storing water behind Winchester Dam in excess of their water rights. Why is that a problem? Well, first, it is a violation of their authority and more importantly, that water belongs to all the people.
 
WHEN: May 31st @6pm
Join Zoom Meeting
https://us02web.zoom.us/j/81257629197?pwd=eVBIODl2cWF1VXpzdUE1SjBrZ0k3dz09

Please join us in conversation moderated by Kai Huschke, ORCRN president and our guests: 
John Hunter
President
Community Rights Douglas County
Mike Ruehle
The Douglas County Report
A watchdog, online community dedicated to transparency and accountability
This Month: The Role of Civil Disobedience in Making Change
March 23rd @6:30pm
Henry David Thoreau in his essay On the Duty of Civil Disobedience written in 1849 described his protest against President Polk's declaration of war with Mexico and the government's practice of returning runaway slaves to their masters. He went so far as to refuse to pay his taxes to support such actions and was subsequently jailed. Slave revolts, Women's Suffrage, the American Indian Movement, Earth First, Civil Rights Movement, farm workers strikes during the days of Cesar Chavez, all used civil disobedience to further their cause.
How would you define civildisobedience?
What does civil disobedience look like today?
Can deep change happen without civil disobedience? Is there another way?

Please join us for our monthly conversation
March 23rd @ 6:30pm
This Month:
Bridging the Racial Divide is the System's Worst Nightmare
Wednesday, February 23rd
Policies, actions, and organized rhetoric aimed at undermining the legitimacy and rights of communities of color are not only targeted actions of racist oppression, they hurt us all. The only group left unscathed is the wealthy elite.
 Why isn't this understood more broadly?
How can our organizing and activism highlight the injustice wrecked upon peoples of color while at the same time illuminating how that injustice hurts all people?
How do we get past race as an illegitimate device for division?
How do we get over the rural-urban divide?
Are all the issues that divide us really more about the 99% vs. 1%?
Let's talk about these and other questions at the next ORCRN, "Chat for Change"… 
This Month: Social Justice / Environmental Justice – You can't have one without the other!
Wednesday, January 26th
When communities have no recognized authority to enact local laws that protect the rights of people, communities, and ecosystems, they are denied authority to protect their health, safety and well-being. There is an inherent danger when we separate our planet from its inhabitants.
And yet we see it so often we become accustomed to thinking in terms of justice for people as separate from justice for the natural world.
Please join this conversation hosted by the ORCRN and facilitated by Kai Huschke, board president
and Community Organizer for CELDF (Community Environmental Legal Defense Fund).
WHEN: Wednesday, January 26th @6:30pm