This Time on Webinar Wednesday…   
There is a bond, a connection, to water that requires us to come from a place of respect. A place that reflects this interconnection and responsibility in our laws, our government, our corporations and our actions. Why? Because as humans we are simply an extension of natural systems. We are not, as is often assumed, the center of life – always  looking to see what water can do to help sustain, improve, entertain or beautify our lives. Although we are currently abusing and destroying a life force necessary to our very existence on this planet, we have a choice to reconnect to our inherent right- relationship with water and all of nature.
In an effort to return to our natural relationship with water, many people in many nations around the globe are creating and enforcing legal rights for nature. Recently, Ecuador's Constitutional Court ruled in favor of the Los Cedros Cloud Forest ecosystem and local communities' rights over the rights of a foreign mining corporation. This work reverses the colonial construct and amplifies traditional indigenous cultural practices. Currently in Oregon our Community Rights Lane County chapter is drafting an initiative protecting their local watershed. Such work is necessary if we are to have access to unpolluted, natural water into the future.
Please join Kai Huschke and our guest, Elliott Moffett for a discussion
about precious water, including:
Traditional water practices
Current realities of water – tribal and nontribal
Rebirthing our relationship to water
Efforts underway to legalize nature's rights – Nez Perce and other tribes, Lane County and more …
Elliott Moffett (Nez Perce Tribe) – Elliott is a current board member of Nimiipuu Protecting the Environment. Elliott is the former Nez Perce Tribal Executive Committee member/officer, and served as natural resources subcommittee chairman, executive board of directors, chairman Nez Perce Tribe Forest Products Enterprises, inter-Tribal Timber Consortium, Columbia River Inter-Tribal Fish Commissioner (CRITFC).
Kai Huschke, ORCRN board president, Community Environmental Legal Defense Fund, Community Organizer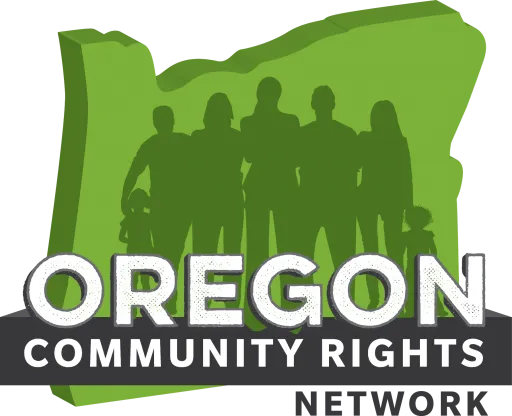 Tax-deductible contributions can be made to the ORCRN legal defense fund. The legal defense fund supports legal battles around the state that are fighting to get community rights on the ballot.