This Time on Webinar Wednesday…   

February 22nd @ 6pm
Water is Us

Overlay the image of the human circulatory system with a map of
waterways in Oregon or the West and you will see we are related. Our veins
and arteries branch, twist and connect just like streams and rivers.  The blood
pumping through our bodies is 90% water. As Americans, we consume over
80 gallons of water a day for all sorts of things. Despite the importance of water, we mistreat, pollute, and destroy this life-giving resource at a magnitude that has
brought us to the brink.
The noise that has replaced the sounds of babbling brooks, cascading waterfalls,
the slap of beaver tails breaking the surface of slow moving water, and
raindrops nourishing the forest are mega-droughts, atmospheric rivers,
delivery trucks taking corporate bottled water away, and the posting of
signs saying "don't drink the water" – all due to extreme pollution.
We have lost our way, our sense of connection to water and its
importance to life – ours and every being on this planet. We are water,
water is us, but is it too late to not only remember that, but actually
live that?
On February 22nd at 6pm, the ORCRN's Webinar Wednesday will meander through a variety of water topics, from current conditions of water access and water quality to how the law sees water, to the growth of rights of nature to protect and preserve water, to our cultural relationships to water and its value to life in Oregon and everywhere else on the planet.  "Water Is Us" will be moderated by ORCRN board member and CELDF organizer Kai Huschke. Joining him will be:
Craig Kauffman – UO Political Science Professor: environmental politics,
ecological law, rights of nature, and sustainable development.
Kunu Bearchum -. Filmmaker & Multimedia Producer and 
Chief Petitioner: Lane County Watersheds Bill of Rights
Michelle Holman – Community Rights Lane County member
and Chief Petitioner: Lane County Watersheds Bill of Rights
Please send your request for the Zoom link to:

[email protected]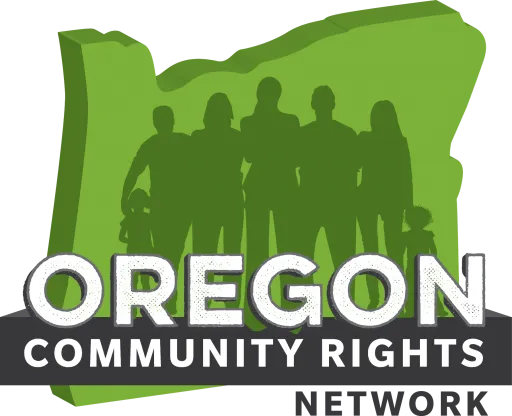 You can now see past Webinar Wednesdays on Youtube!
Check out all our educational and informational videos today!
Tax-deductible contributions can be made to the ORCRN legal defense fund. The legal defense fund supports legal battles around the state that are fighting to get community rights on the ballot.